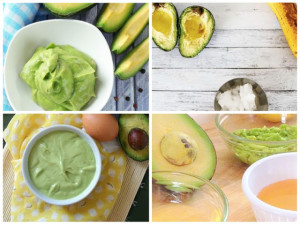 There is a reason why avocado's are in the category of "super foods". Not only are they great for our personal health, but they also amazing beauty products.
Avocado's contains these vitamins and nutrients plus more that are beneficial to our skin and hair:
Vitamin E: Is a fat soluble which means it prevents free radical damage oxidizing fats from your skill cells that cause aging. For hair, it repairs damage scalp that causes slow hair growth and hair loss.
Vitamin B: Another great vitamin for hair growth.
Vitamin C: Helps with elastin and collagen by binding the cells together.
Antioxidants Carotenoids: this helps your skin protect it self from environmental damage, which causes visible signs of aging.
Omega 9 fatty acids: moisturizer for both skin and hair.
Here are some great avocado mask for both your hair and face. The best thing about these masks that they require ingredients that are probably already in your fridge.
Hair Masks:
This mask to packed with oils that will leave your hair nice and shiny, and it prevents breakage.
For those who want thick hair, this is the mask for you. Not only do you get the benefits of the avocado, but eggs contain tons of protein to help create lushes hair.
Face Mask:
Honey is a natural antibacterial and can help reduce acne. Combine this with an avocado it become a great mask to help nourish the skin, reduce redness, and moisturize the face.
Unlike the mask above this mask contains carrots which have antioxidants and betacarotene that softens the skin. This mask will leave your face nice and smooth.