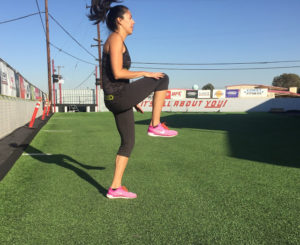 Looking to burn calories without taking too much time out of our busy schedule. I wanted to share a 10 minute fasted morning workout that has started help me drop a few pounds before my engagement shoot. This workout can be done right by your bed side…given that there is space. Also doing the morning workout fasted is a great way to get metabolism revved up and burn stubborn fat (explanation).
One of the hardest things to doing morning workouts, besides waking up early, is that the body feels cold and stiff. Therefore, I wanted to make sure that these moves start to warm up the body, while getting the heart pumping.
2-3 rounds of these 5 exercises, and only take a break after finishing a complete round. First one may be slower, but for the second try going as fast as possible. Lets GO!!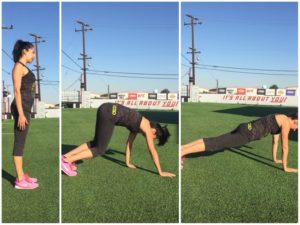 10 Stand walk to a plank– Stand tall and bend at the hip, hands on floor, and walk to a plank and reverse till you're standing tall again. Keep the core tight, bellybutton push to spine and at the plank position hand underneath shoulder.


20 Individual high knee jumps– Jump bring one knee to chest and drop the knee, and again with the opposite knee. Perform 20 jumps total, 10 each leg.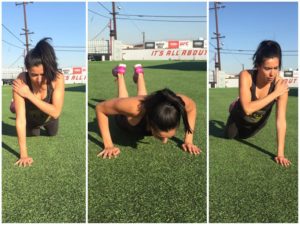 20 Push-up with shoulder taps
– Perform a regular push-up and as the body is going up tap the right shoulder, down again, up tab the left shoulder. 10 taps each shoulder and keep the core tight.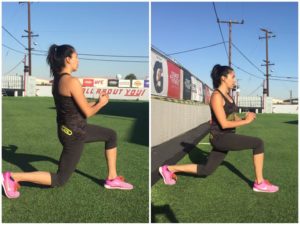 20 Lunge forward and backwards
– Lunge forward (90 degree to ground both knees) and lunge backwards with one leg and then repeat with the opposite leg. Perform 20 total, 10 each leg.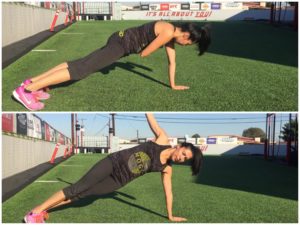 20 Plank with Rotating Twist:
Start in a plank position, with the right arm reach to left leg, underneath the body and raise the arm as the body twist to face the right side. Repeat for 10, and then 10 more on left side of the body.
There you go a 10 minute fasted home morning workout. that not only got your heart rate up, but also worked out the bum and abs.-Danni