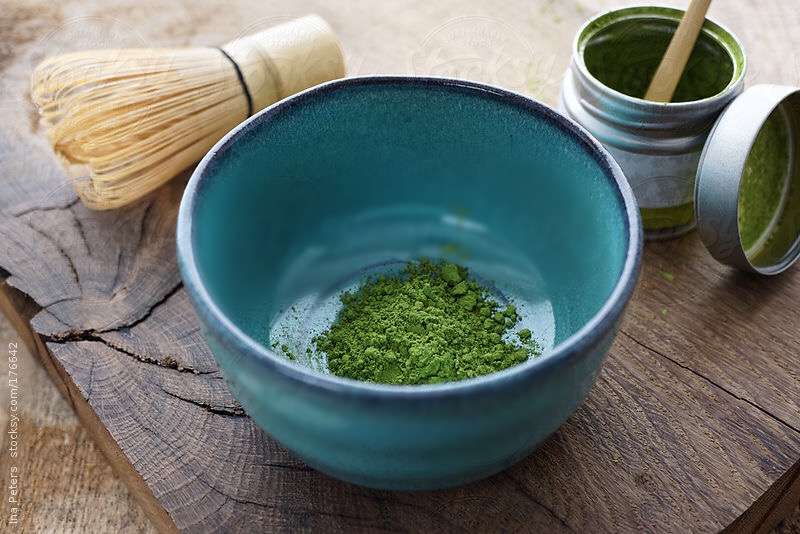 We have mentioned our love of matcha tea several times on the blog, but have never explained the benefits of matcha properties. I wanted to provide more information on why this powder tea is popular among nutritionist.
Matcha, unlike regular teas, are a powder form that includes the tea leaf remnants and the leaf itself. Therefore you are getting all of the minerals and vitamins tea leaves have to offer.
Here is a quick information guide on why matcha is beneficial for you.
Antioxidants: Matcha tea leaves are packed with one main nutrient called catechins (EGEG) antioxidant. Studies have found that it contains three times the amount of EGEG than a typical green tea. Antioxidants help fight free radicals that can potentially harm the body. (Link)
Speeds Physical Recovery & Boost Metabolism: Studies have found that matcha also speeds up physical recovery since it contains amino acids. Amino acids are the building blocks of protein and help increase cell strength. Also EGCG helps increase metabolism faster than normal.
Improves Immune System: Matcha tea contains potassium, vitamins A and C, Iron, protein, and calcium, which keep your body stay healthy. Studies have also shown that EGCG are also known to fight cancer, viruses, and heart diseases.
Promotes Zen: The L-Theanine in matcha produces alpha waves that promote relaxation. Although matcha does contain caffeine, it does not create the same jitters that a cup of coffee will. (Link)
Anti Aging: As mentioned, matcha contains antioxidants that fight free radicals. Free radicals can cause damage to our cells, which causes signs of aging. Therefore drinking matcha can help increase your levels of antioxidants to prevent winkles and other signs of aging.
What You Should Know When Having Matcha
As much I love any thing with matcha, unfortunately the only way to get the full benefit of matcha tea is to have it in a hot brewed tea form. Consuming matcha in other forms means you dilute the nutrients. Even drinking matcha in a tea bags means you are only getting around 0.42 to 57.4 mg of EGCG. But this is still more than a regular green tea. Also it's important to know that the older matcha gets the benefits decrease (Link).
How to make it: Mix 1 tsp of matcha powder into a third cup of hot water (less than boiling). Then whisk until it froths, traditionally with a bamboo brush.
Where to buy it: You can get matcha anywhere now, but the cheapest place is at your local Asian market or Amazon.
Matcha Green Tea Powder – Powerful Antioxidant Japanese Organic Culinary Grade Matcha – 113 grams (4oz) – Increases Energy and Focus – Contains 137x More Antioxidants than Brewed Green Tea – Naturally Supports Weight Loss Goals and Helps Maintain Health Metabolism
Personally I love of matcha tea for the taste as well as the benefits. If you haven't seen our previous matcha powder recipes posts, check them out: