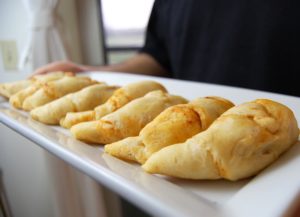 Superbowl parties are full high carbs and fat recipes. Not that carbs are bad, just it is best to use for energy and not be sitting watching a football game for hours. Therefore I wanted to add one or two recipes on the superbowl party menu that is bit lighter on carbs and higher in fat. Since fat is a slower burning energy source.
These low carb sandwiches are the perfect appetizer for a superbowl party. They are also quick, simple for any non-cookers or those short on time. I would prefer making something less processed, but I do believe in moderation. So eat a few and fill up veggie platter or other great ideas below.
Ingredients:
Low fat crescent rolls container
8 Turkey Bacon
3 Laughing Cow Swiss Cheese Wedges
Chipotle Sauce
Directions: Cook the bacon and set aside. Open crescent, spread the swiss cheese and the chipotle sauce, and add the bacon. Roll the crescents and add to a non-stick baking pan. Bake for 10 mins and done.
Calorie per roll is 162 calories; 6.6g fat, 5.2g protein, and 18g of carbs.
Here are other great low carb recipes that I found on Pinterest: