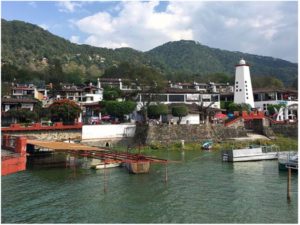 My mother side of the family all-live in Mexico, near the capital. We usually visit for weddings or special occassion. I recently went back and although I didn't spend much time there, it made me realize how assessable and inexpensive Mexico really is. In the past my mom's family has always taken us to different towns and historical sites. Before I left on my trip I noticed there were places that are barely mentioned in travel sites. Most guides are only about Mexico City, Cancun, or Cabo. Mexico has so much more to offer than those 3 places. Here is a list the best places to visit near Mexico City.
This list is only the tipping point of amazing sites to check out.
I had to mention this place since we recently went back for a wedding and I had forgotten how beautiful it is! The homes are located on a hill, facing the town and a massive lake. This places screams Mexican charm. Just sit in the center of city near the church and enjoy people watching. Then stop by a cute café for coffee and dessert. There is nothing more breath taking then seeing the sunset over the lake and mountains. There are also so many activities, like boat rides and paragliding, that the whole family will enjoy.
If you want to experience nature finest work then you must stop here. When I was little I saw a Russian ballet company perform in the middle of the massive cave, so this place has been engraved in my head ever since. This place feels unreal. There are large mineral crystals, like in Pirates of Caribbean ride, and damp caverns to explore.
I haven't been here in a few years but I still remember the beauty of this amazing pueblo. It looks like you stepped into an Italian village, with all white building and charming winding streets over the countryside. This pueblo is still an active silver mining town, so if you're looking for silver jewelry you have found the spot. There are tons of small shops to explore and hopefully not over spend.
This is by far my favorite small town in Mexico. There three things that amaze me about this city. First, that majority of the streets are underground. This means you are zipping trough tunnels to get from one place to another. Second, this place is known for the arts, so they have a beautiful historic theater. It was created to look like the theaters in Europe. They even have annual festival dedicated to music. Last, there are special minerals in the dirt that help preserve dead bodies to mummification. So if you not scared easily, visit the museum of the dead to see real live mummified bodies.
Although my family lives near this volcano in Toluca, I had never had the chance to visit this place until my last trip. This is a dormant volcano and it is located near Toluca. Climbing up the volcano is a site to see, but also a workout. I was dying by the end. Once we got to the top there are two small lakes that take your breath away. Also if you visit, stop by Metepec historic center and take a tour of the Jardin Botanico, stain glass botanical garden.