I find that it is difficult to balance a healthy lifestyle, working out and eating healthy, having time for friends and family and balancing your career. It's even more difficult if you are trying to save money.
Like I have mentioned in the previous post we're starting a business so money is tight. So eating out, is not an option. Especially because healthy food is expensive! So how we do it? We make cheap and quick recipes that can be done in less than 30 mins. And on top of that, make food that excites us so we don't get tempted to eat out.

One of my favorite recipes are these lower fat taquitos. Because not only are they easy to make but have very little ingredients. One way we make this meal even quicker is to make a whole chicken in a crockpot or just buy a precooked rotisserie chicken. This way you have enough meat for a couple of days. And yes, it's not always the healthiest, but it's better than eating out and making bad choices.
Here is my quick and easy to make rotisserie chicken taquito recipe: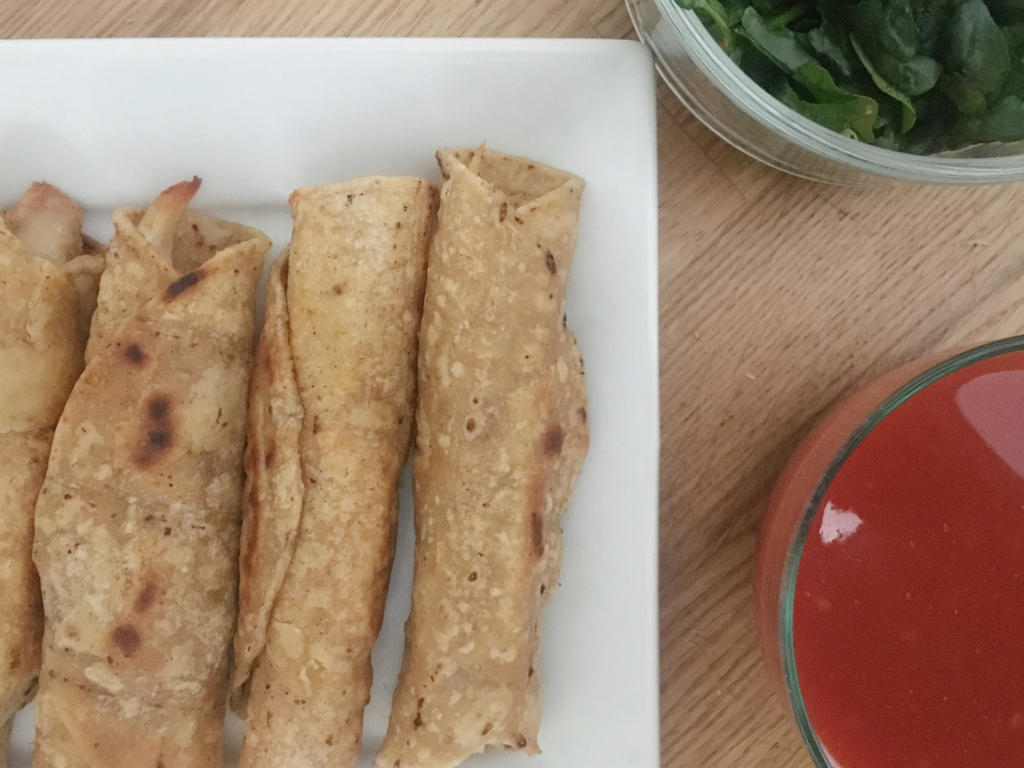 Ingrediants
8 corn tortillas
3 cups of shredded chicken or refried beans
3 tablespoon of coconut oil
Instruction
Start by heating up a frying pan
Pour a tablespoon of oil and place one or two tortillas on a frying pan at a time till they are soft and coated with oil. The tortilla should be soft but not crispy.
Set aside each tortilla on a plate to cool a bit, while skinning and shredding the chicken
Evenly add the chicken to all tortillas. Next, roll up the tortillas tightly so it doesn't spread out. If it keeps opening, remove some chicken.
Then add the remaining oil to the pan and carefully place the rolled taquitos on the frying pan. Place them with the opening face down to ensure they stay close.
Once the bottom side is slightly crispy and golden, keep rolling it over till the all side are crispy.
Set on a plate and add sliced avocado, salsa, and sour cream for extra taste or other toppings of choice.