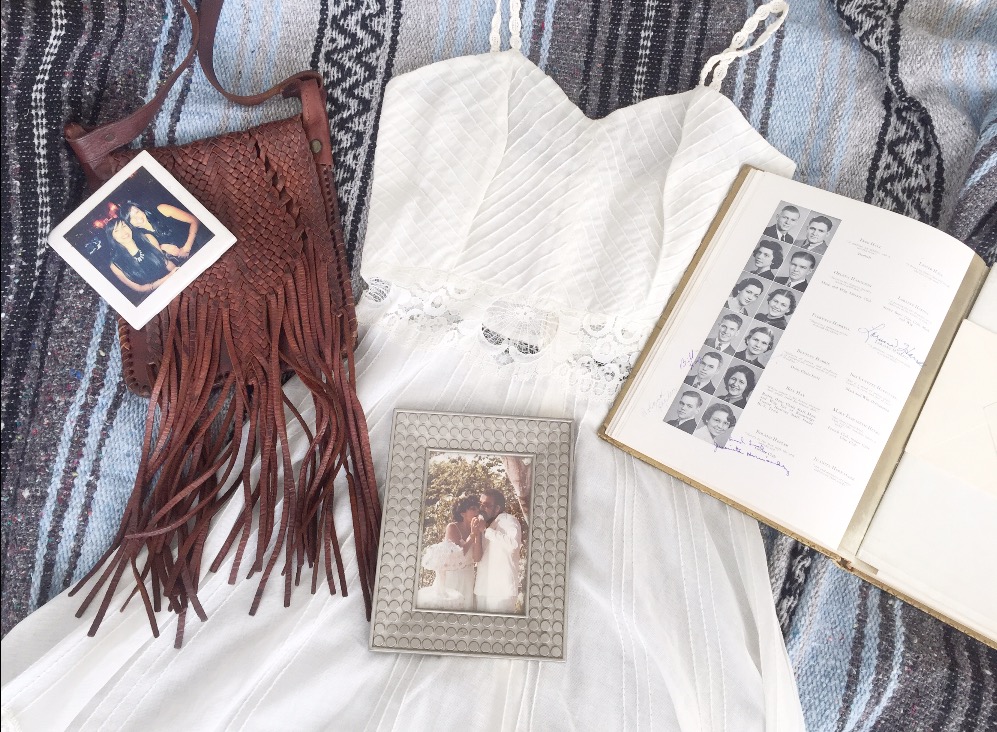 We have all heard of the famous question "if your house was on fire what would you save". For a person who doesn't try to put sentimental feeling on objects, I still have 3 items which mean the world to me. Each of these items share a different piece of who I am and my family's history. I wanted share them with you and give you the backstory.
My Mom's Wedding Dress
Our parents married in 1979 in Puerto Vallarta, Mexico. My mom was wearing a white lace dress my grandfather custom made. This dress is an amazing 70's bohemian beach dress any vintage lover would die for. Every time I see this dress it reminds me of my parents commitment to each other. They have never had the perfect relationship, but they stand by each other through good and bad. To me this is love.
Fringe Leather Bag from Spain
I found this bag when I was studying abroad in Spain for a summer. The whole time I was in search for a great souvenir I could keep for many years as memory. Finally when I was at the famous Madrid flea market, El Rastro, I found it! Every time I wear the bag, it reminds me of the memories from that time and place. Being in Madrid was a dream come true and it was an amazing experience which showed me who I was. It was the first time I was able to get out of my comfort zone and trust I could do things on my own.
Grandmother's Yearbook
My grandmother from my dad side was born in Waco, Texas (yes, the same town as Fixer Upper show). She grew up during the Great Depression and segregation in the south. She always told us stories from that period, which always fascinated me. My grandmother was an amazing women, who radiated joy. Danni and I even got her dry sense of humor. I remember when she was still alive, we would go through her yearbook of her 1938 class and she told us who were her friends and crushes. It's funny to think of your grandparents as teenagers. Now every time I flip through the book it makes me miss her so much.
I would also love to hear what you guys hold dear.